The Tome of Inquisition can be used to view the entire drop tables of a specific NPC. The Tome is included in the starter items when creating a new character, but can also be bought from the Trader shop, located on the docks South of home, for 100gp. The Tome is trade able, but has no real market value.
Utilizing the Tome
Instructions
Left clicking on the Tome will display some basic instructions:
"Use" this Tome on any NPC, then select "View-drops" to see it's entire drop table.
Using on a Monster
After using the Tome on a NPC, the following message will indicate success:
Monster has been scanned to your tome.
You can now select
View drops
on the tome to investigate the drops from your monster.
View drops
After selecting View drops, a color coded window will appear, displaying the entire drop table of your monster. The quantity of the item, item name, and value are displayed.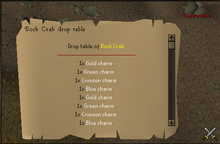 Item Value
The items value will change the text color of the item in the interface. The numbers shown are based off the price-checker values, and are likely not accurate market representations.
Over 100m = Orange
Over 10m = Purple
Over 1m = Blue
Over 100k = Green
Over 10k = Yellow
10k or Less = White
Ad blocker interference detected!
Wikia is a free-to-use site that makes money from advertising. We have a modified experience for viewers using ad blockers

Wikia is not accessible if you've made further modifications. Remove the custom ad blocker rule(s) and the page will load as expected.